There will be a time that we have to say goodbye to our loved ones. Although it's a sad event in anyone's life, death is a sure thing that will soon happen to all of us. All we can do is to be prepared when that moment comes.

It's an excellent idea to have something that will help you remember that loved one even after passing. There are modern ways of keeping the ashes of your beloved family or even a dear friend. Nowadays, Cremation jewelry can be an excellent way to keep a part of your loved one forever for this moment. It will make anyone feel as if they didn't lose someone. You can keep a part of them close to you at all times.

These jewels for deceased ashes are allowed to remember our family member, loved one, or pet with a genuine love daily and enable us to carry our dead forever with us symbolically. The emotional attachment we have with the loss of a friend, family member, the love of your life or pet does not end when we lose them physically; the ashes storage necklaces help us to express our love for our loved ones and, in some way, pay tribute as a promise never to forget them and always take them with you everywhere.

There are a wide variety of ash jewelry designs to ensure that you will keep them close to you all the time. We need to select with wisdom and love which one helps us to keep your memories; They are jewelry, the only difference that is used to deposit ashes, hair, or fabric of clothing, or some other memento of a loved one. Perhaps to some it sounds strange and scary to wear human remains every day as jewelry, but seeing it in a sentimental environment is a tender and loving way to pay tribute to our most loved one who is no longer with us, not to mention that it helps psychologically to pass the stage of mourning, making it more bearable.

Here is some cremation jewelry to try:

1. Memorial Cremation Urn Necklace
The memorial necklace is the most popular cremation jewelry around. It's a hollow pendant design so that the ashes can be placed inside. There are creative cremation necklace designs that you can also choose from.

The best thing about having a memorial necklace is that you can always keep it with you. It will serve as an urn necklace so that you don't have to leave it when you're not at home. This memorial necklace can help you to recover faster from your loss:

1). Heart / Floaral Urn Necklace for Women
It's a heart-shaped pendant where the ashes will be placed. This shape is made for women with floral design as well as space where you can add a message or the name of your loved one. It will surely be the best design since it represents that the person is always inside your heart.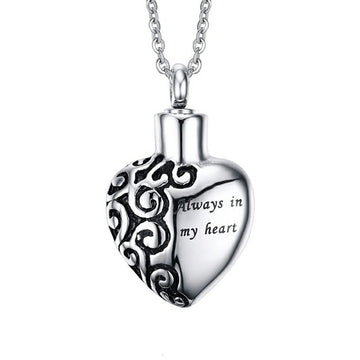 2). Cylinder Hollow Urn Necklace
The hollow urn necklace can be a design that can be worn by either men or women. It has a cylindrical shape with a minimalist design that can be engraved. It's one of the typical memorial keepsakes since it has a unisex design that can be provided to the family.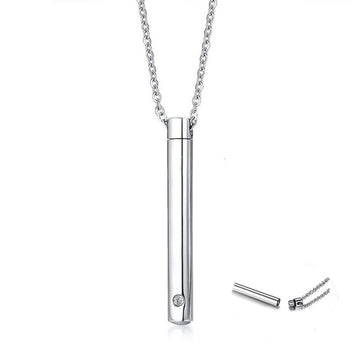 3). Rectangular Urn Necklace
It's best to be worn by men since it has masculine edges. Although women can also have this design if desired. It has a rectangular pendant that will serve as an urn for the ashes. You can have it personalized with a message or the name to keep it forever.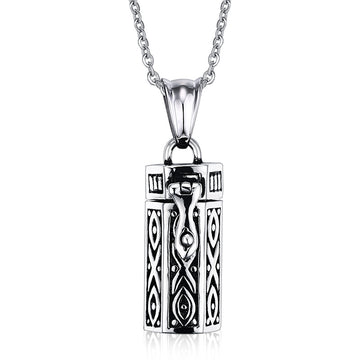 4). Pet Dog/Cat Paw Print Urn Necklace
Petlovers are also making sure that their beloved pet will be remembered forever. This urn necklace is cylindrical with little paws or other designs that you want to place your pet. It's a great way to always keep them close to you even if they are not around anymore.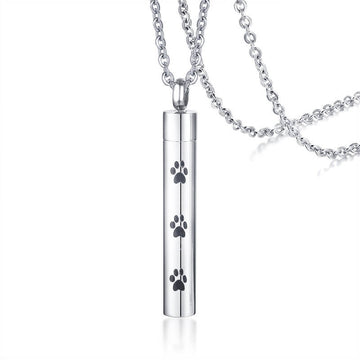 5). Teardrop Urn Necklace
A teardrop necklace can best represent your feelings when a loved one is already gone. This urn necklace can also be customized depending on what you want to be engraved there. It's an urn necklace for women that you can use on any occasion so your loved one can always be with you.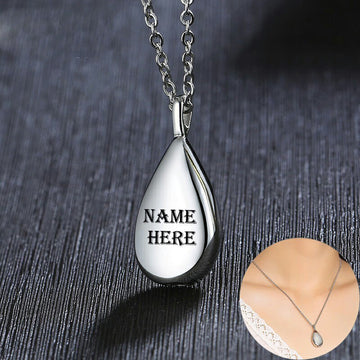 2. Cremation Rings
Some people are not into wearing a necklace in general but you can go for the cremation rings instead. It's an excellent alternative for those who prefer to have a ring instead. This is a good jewelry for ashes as well since it can also be customized.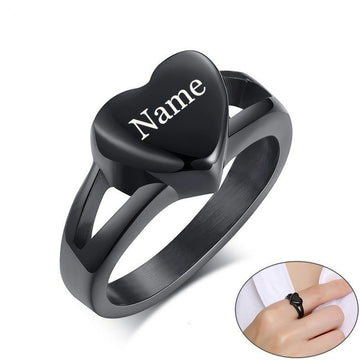 Having the cremation ring will allow you to either add your loved one's name or you can choose a short message. It's a good idea to have the cremation ring so that you can just look at it every time you miss your loved one.

Besides, it can be mentioned that there are not only necklaces/rings to carry ashes. There are other options like bracelets, key chains, and earrings. But in the end, the goal is the same, to provide the opportunity to create the maximum representation of respect and affection towards the memory of those loved ones who are no longer in this world.
Some stores offer a more wide range, including pendants and crosses, angel wing, and emblems in many styles and materials such as gold, silver, gold-plated, and silver-plated . You may also want to gift a piece of ash jewelry to other family members as an everlasting keepsake, only if they agree, not everyone is comfortable with this new trend in jewelry. Let's remember that it's not bad. Many people find these jewels filled with the ashes of their loved ones as a real source of comfort. If we go back in history, people have used ash jewelry for centuries; it is a poignant popular trend way to honor a loved one and keep them close to you whenever you can.

Nowaday this jewelry trend has helped thousands of people, allowing them to wear their loved ones in beautiful locket pieces. There are blogs with a wealth of information on ways to bring your loved one and especially ways and tips to overcome a relative's loss. Everyone has lost a loved one at some point, and it is entirely understood what it is to go through this sad moment. That is why these accessories are born to cover that need.

Conclusion
Losing someone close to your heart can be a devastating experience. However, you have to keep it together and eventually move on to someone's passing. We all have to accept that it's a part of life and proceed with our lives.

Although it's not easy as it sounds, you can do something to ease the pain of losing someone you love. Jewelry can be used for you to keep a part of your loved one that has already passed.

Cremation jewelry, such as the urn necklace/urn rings, help us to feel a little better about losing a loved one. Even if they are no longer around like they used to, you can still keep a part of their physical existence close to your heart. It's the best that you can do and move on without forgetting about your loved one.

It's a memorabilia to celebrate the life of the deceased person rather than be sad about it. Having jewelry for ashes can allow anyone to stay close to their loved ones. It may lessen the feeling of missing the person if you keep them close to you.

It's a reminder of their life around you as well as a good piece of jewelry that you can wear every day. It's better than the traditional urn since it stays inside the house. But with the urn necklace, everyone in the family can have their loved one to remain with them forever.

Having personalized jewelry that can be used as a jewelry for ashes can help. By having the ashes inside a piece of cremation jewelry, you can be with your loved one forever.